The freeform design with a integral spa provides an endless vacation, The Cancun Deluxe lets you create your own experience every time
Size & Specs
16′ x 35′, Depth 4′ – 3″ to 6′ – 6″; Spa 3′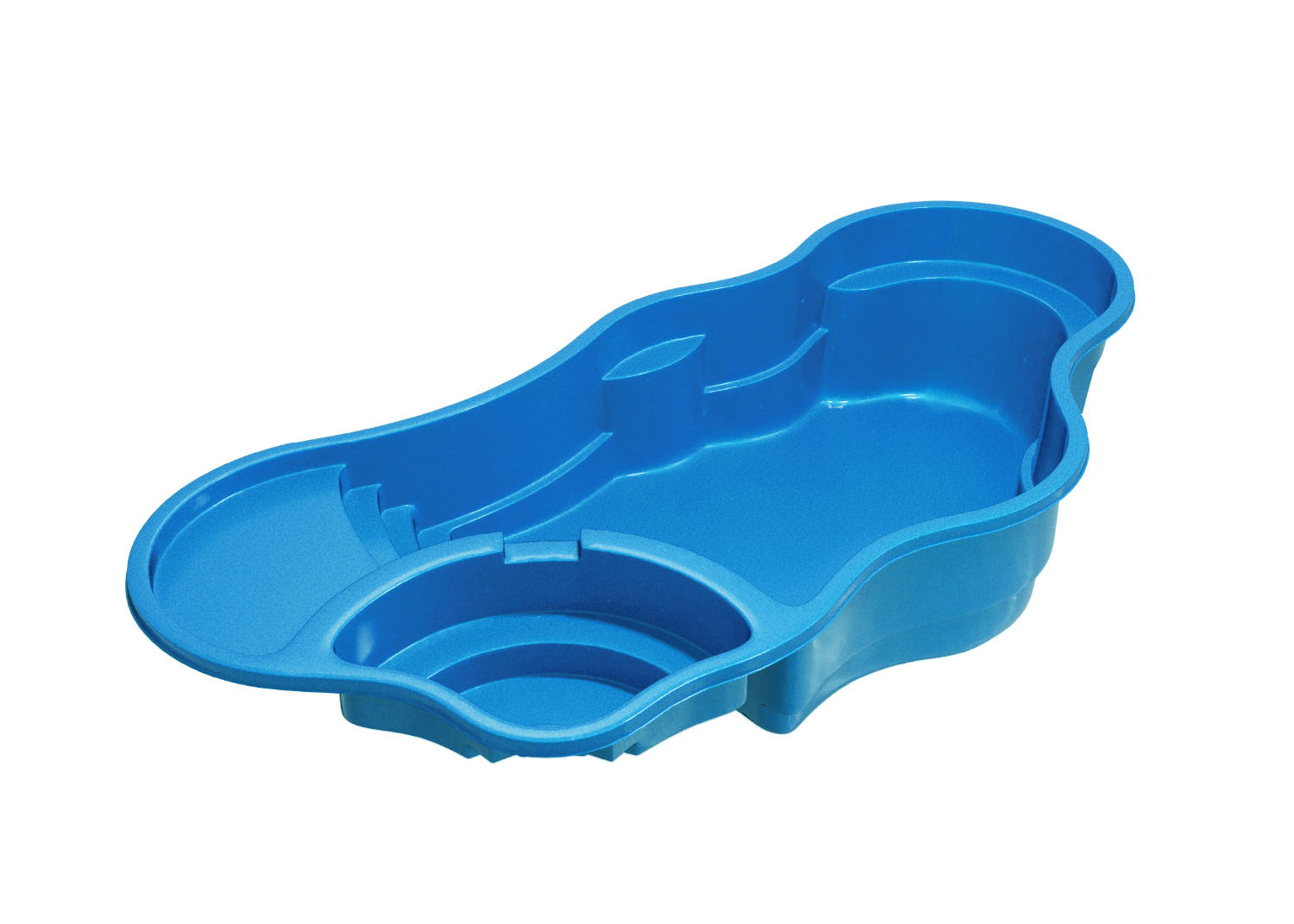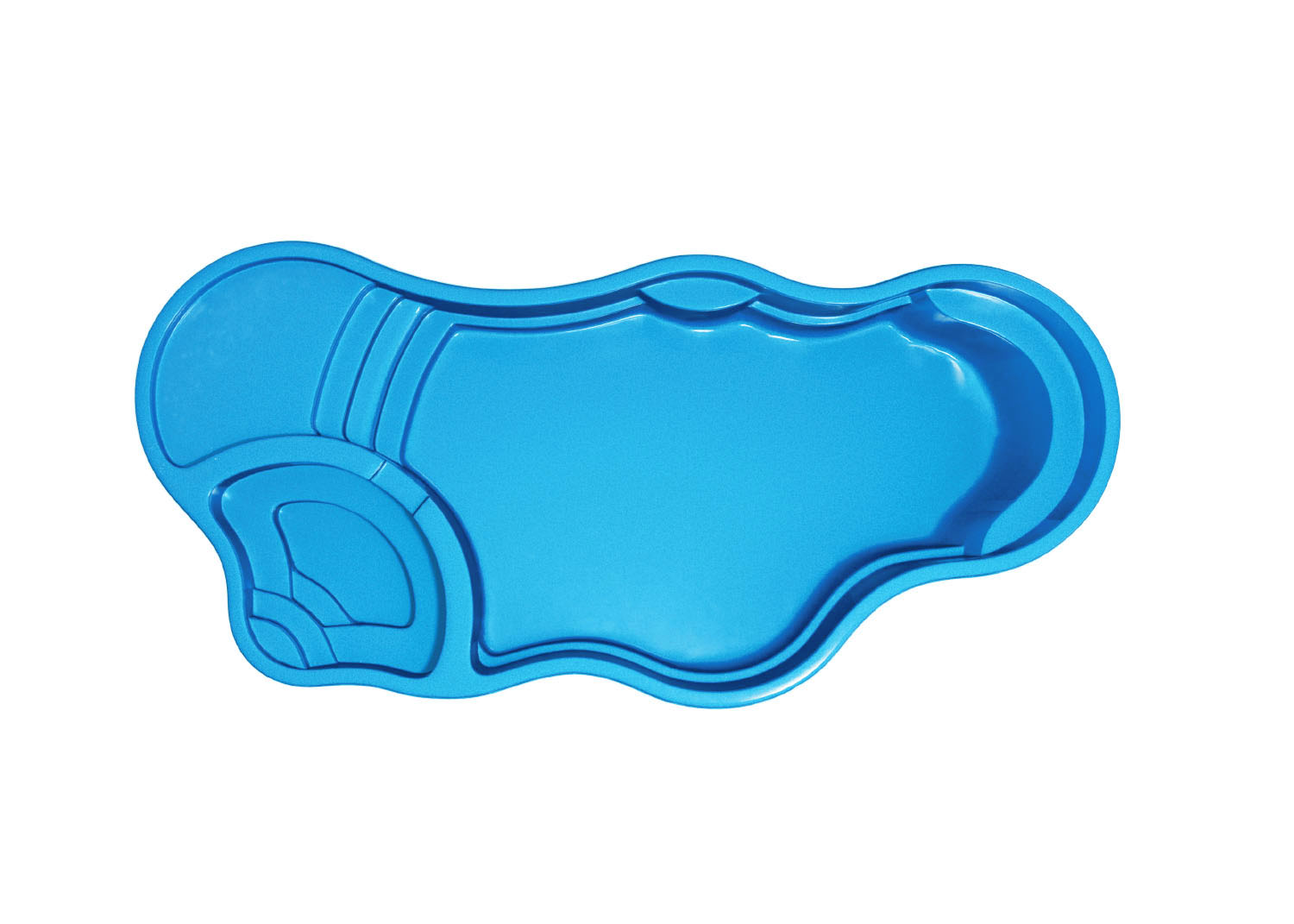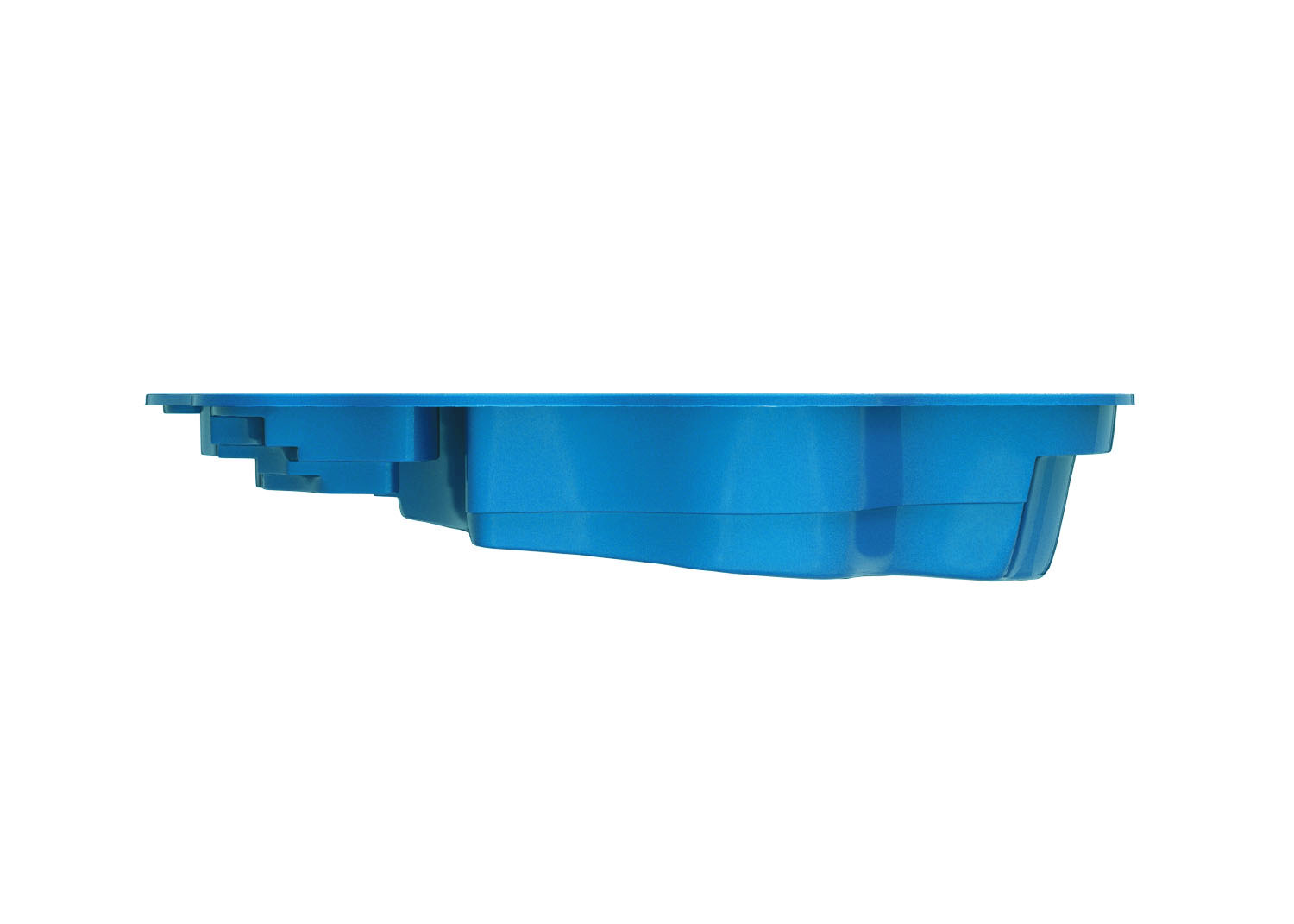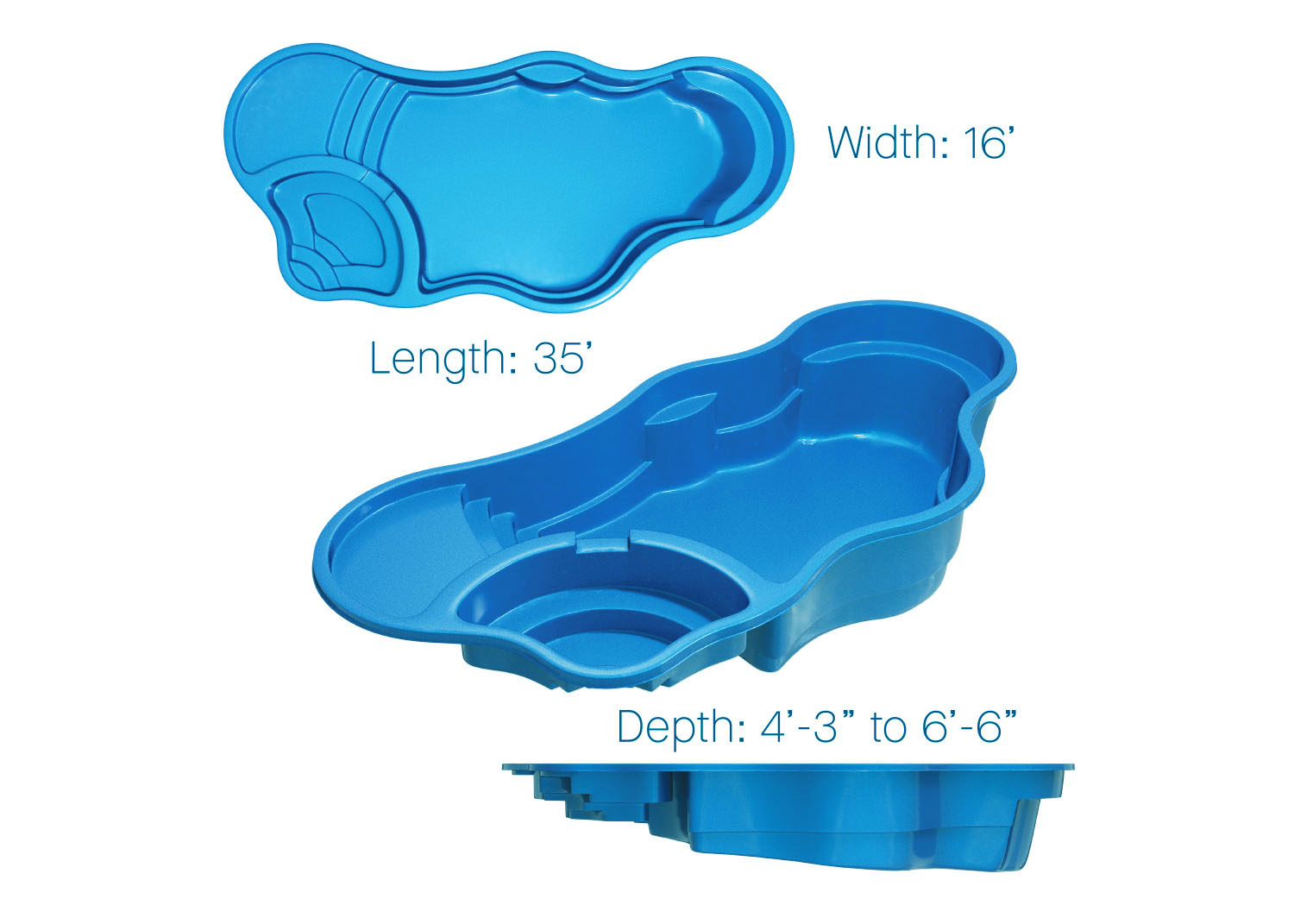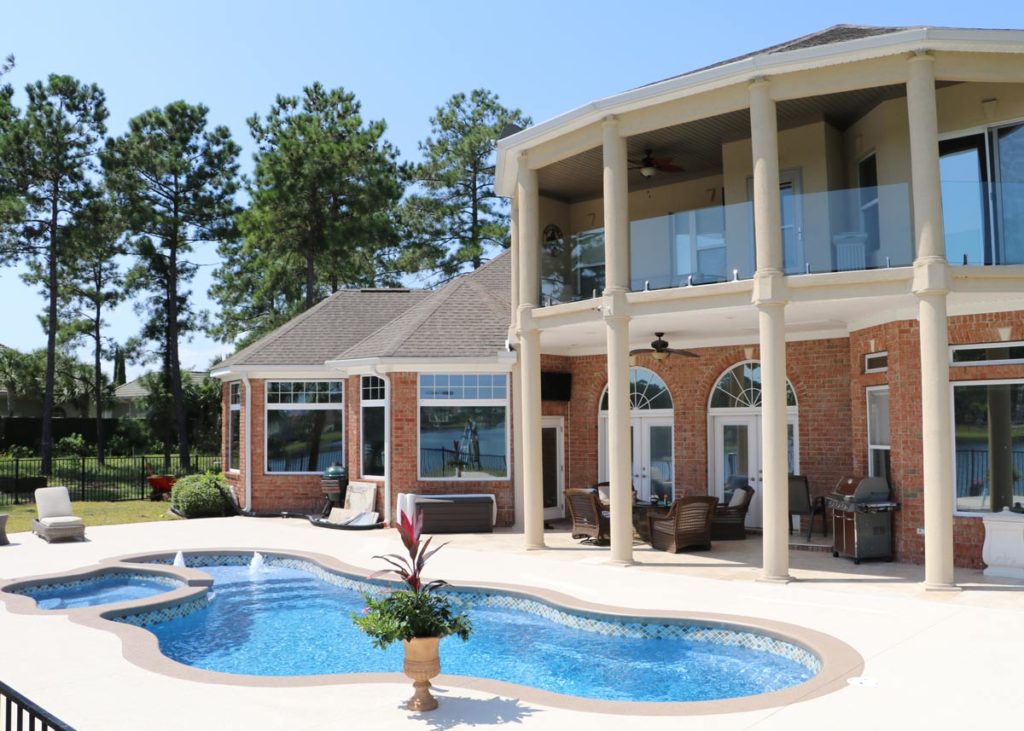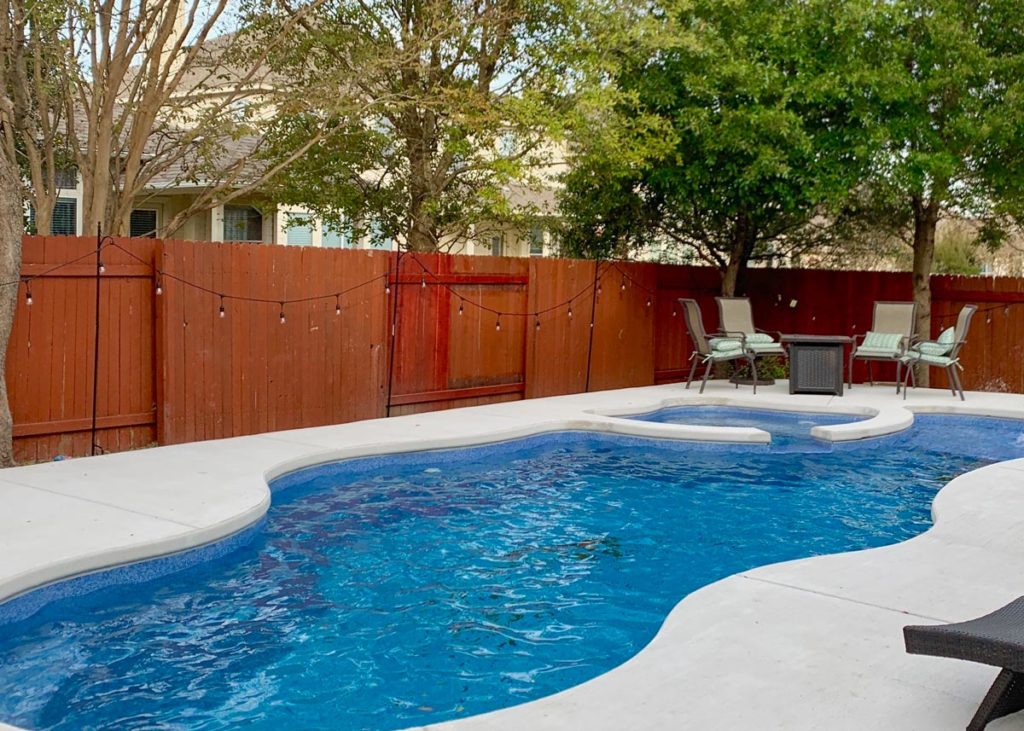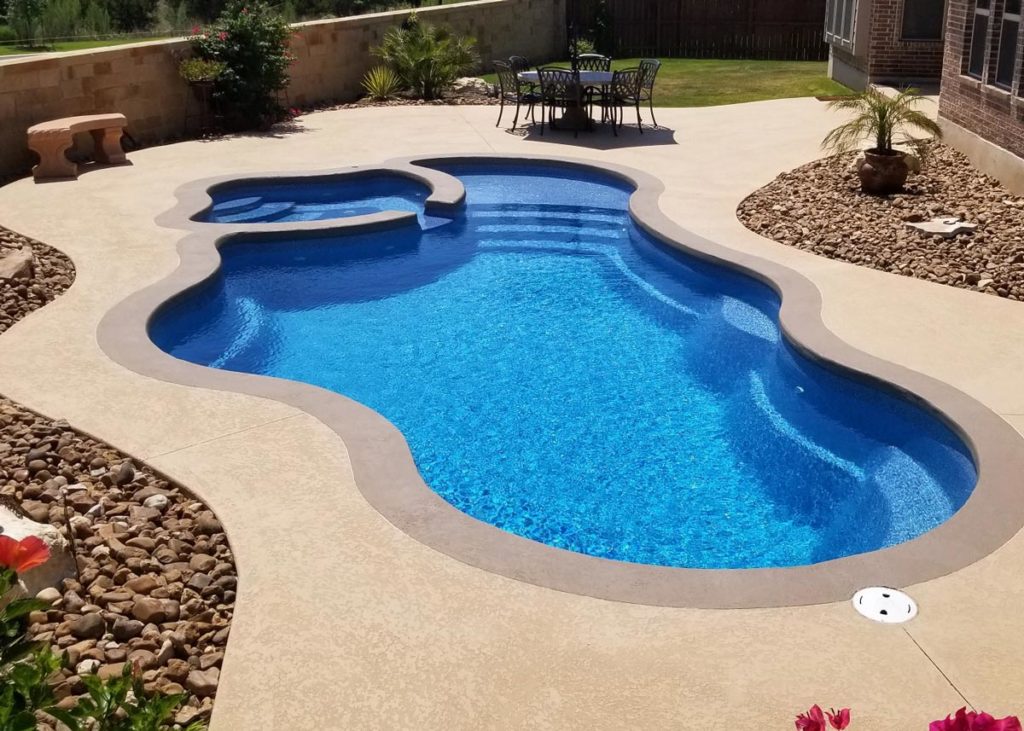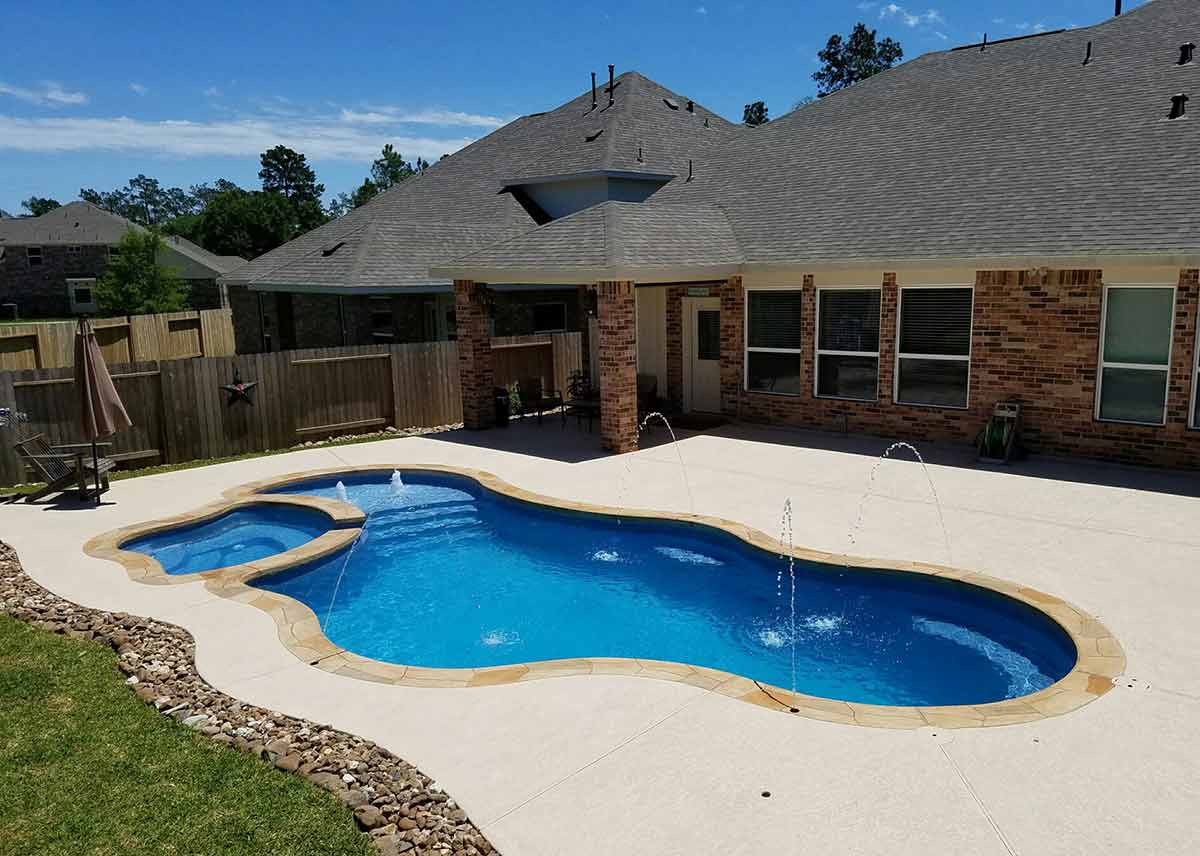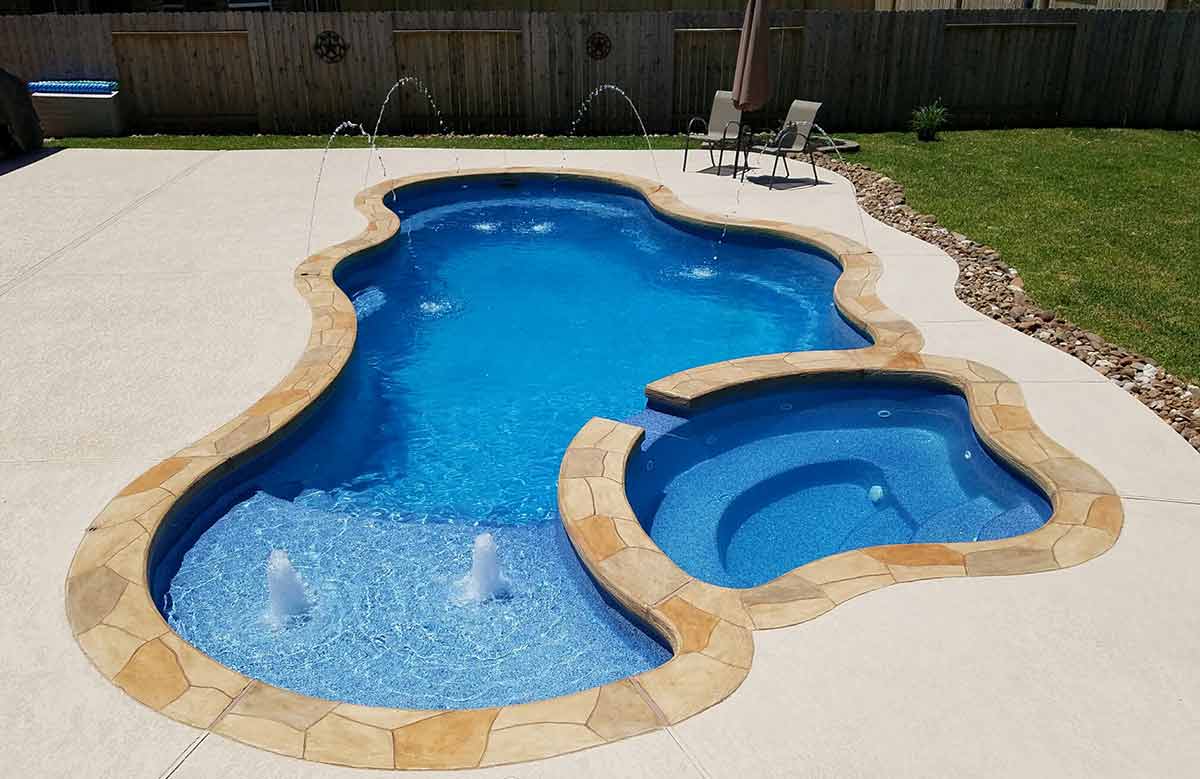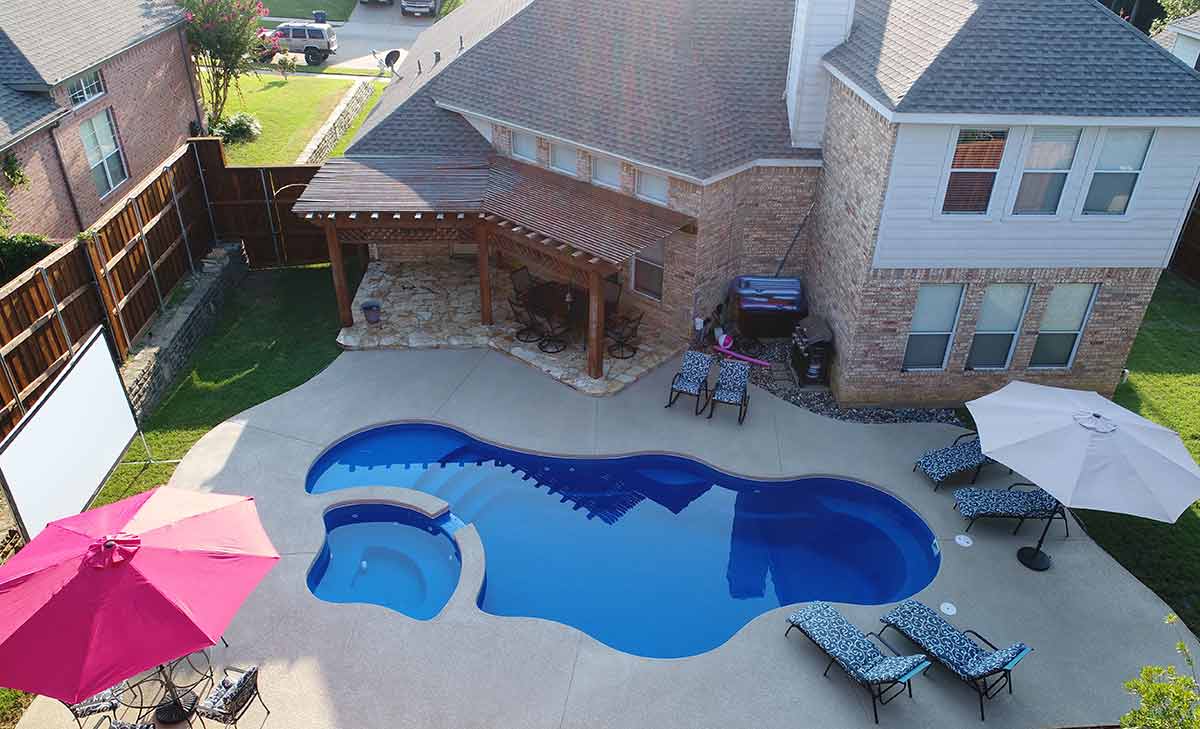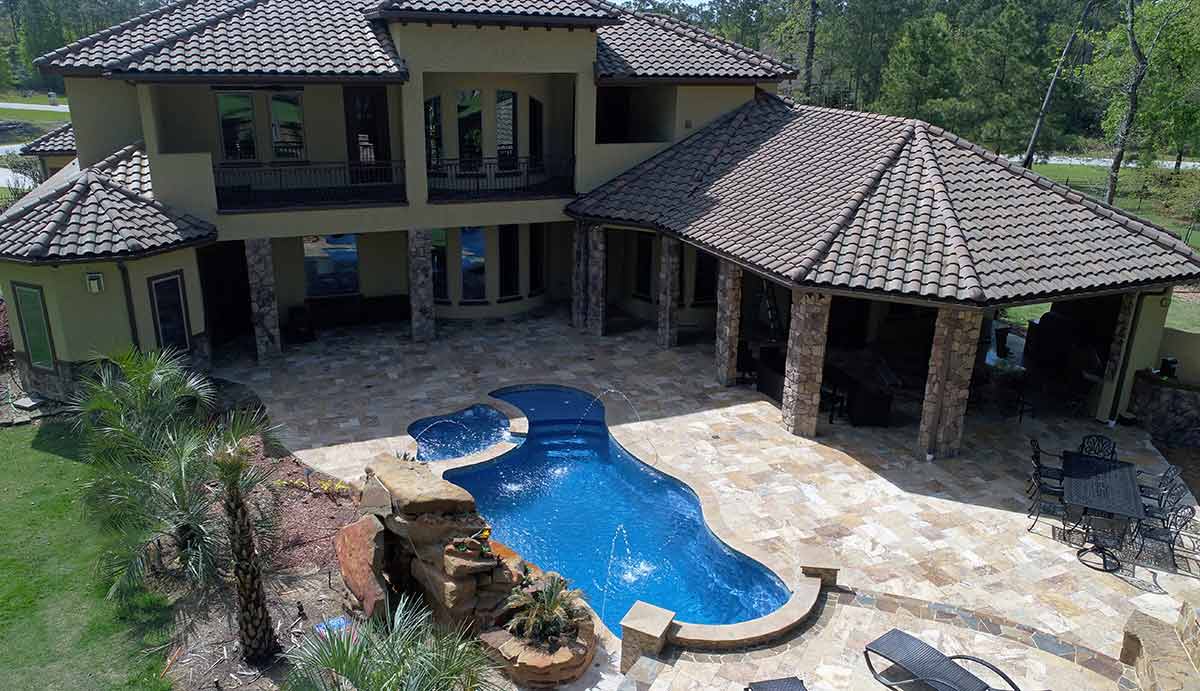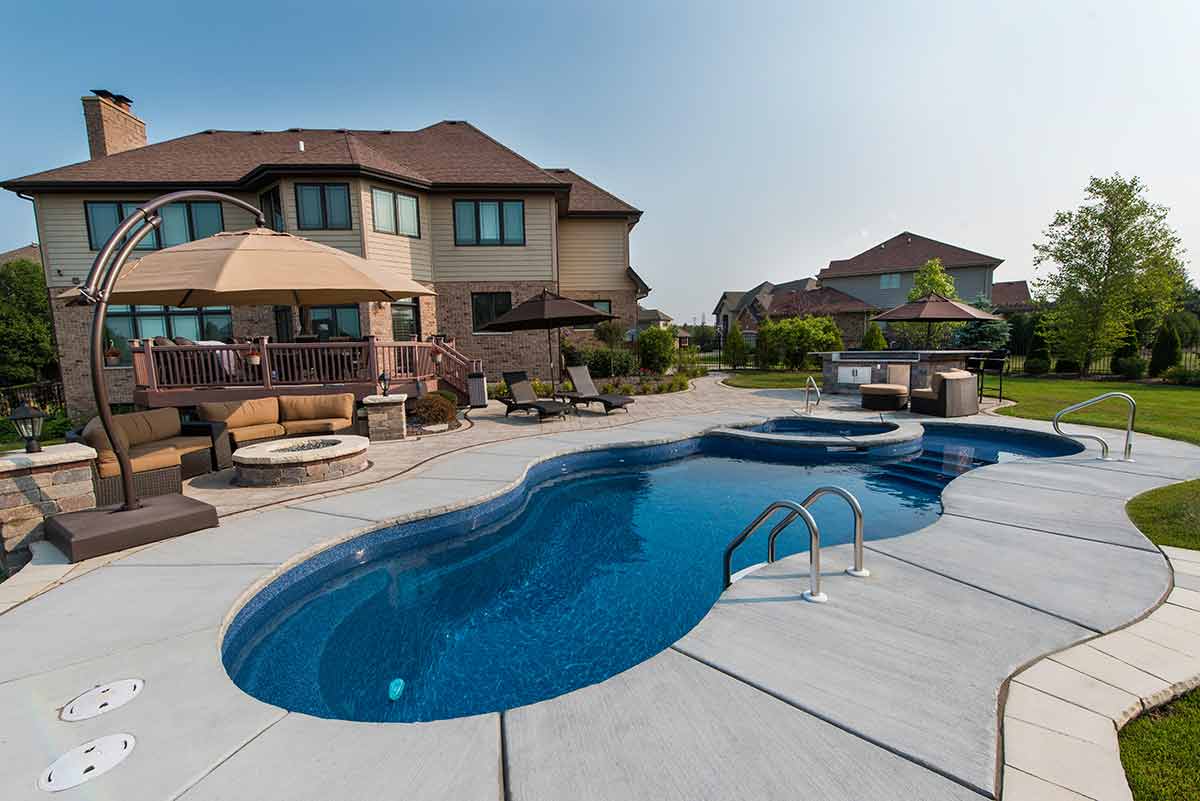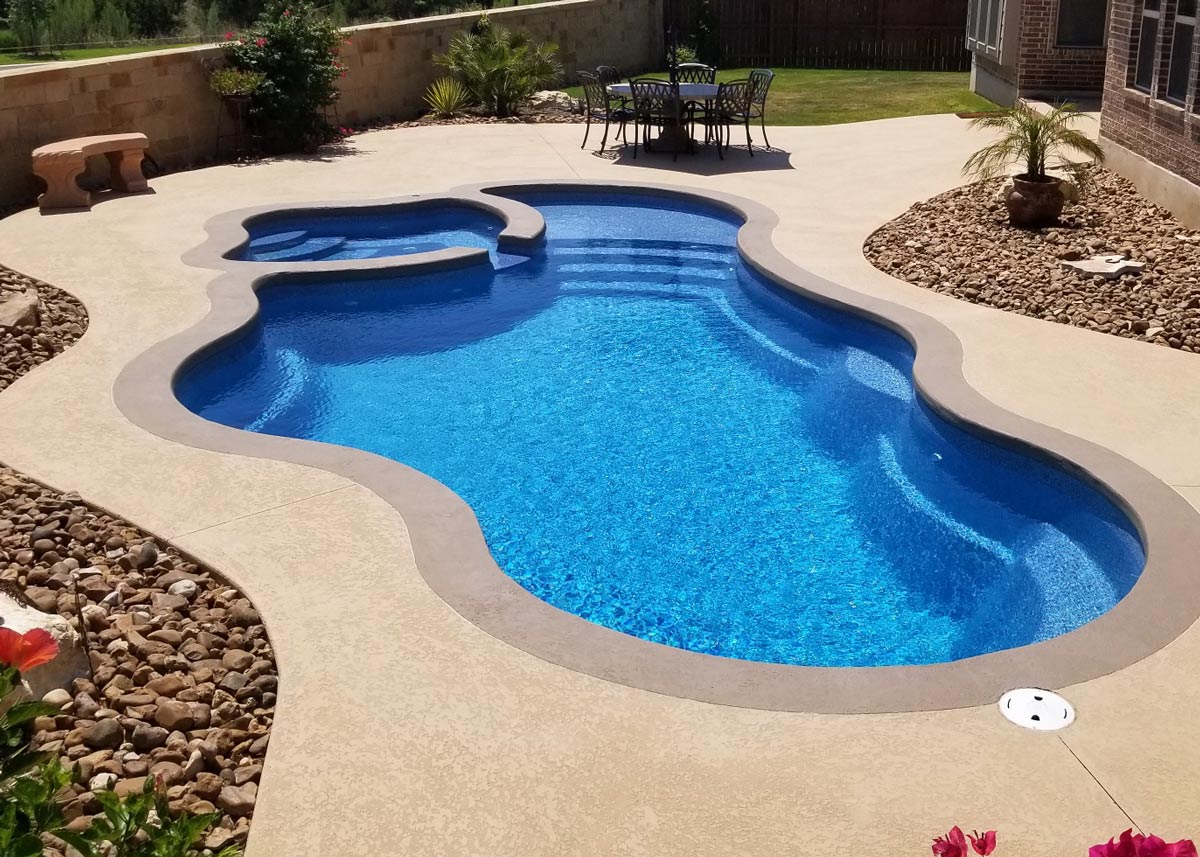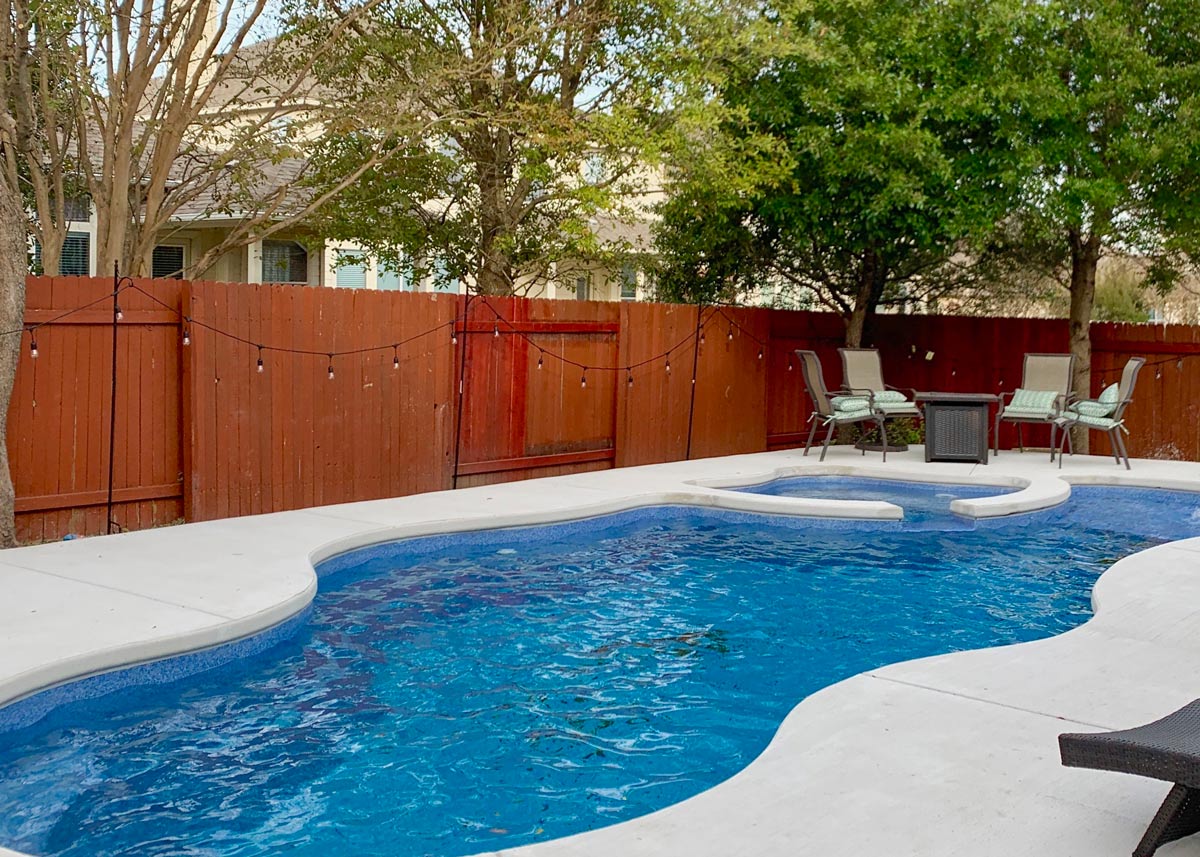 Features
Swim Up Seating
Swim up seating is the perfect way to enjoy your swimming pool. Submerge yourself partially under the water to effortlessly enjoy your pool. Benches and seats bring a great conversation area into the pool. Most folks just want to relax when they hit the water; these offer a great way to do that. In fact, some of our customers have referred to them as their beverage bench. They enjoy winding down at the end of a long day with their favorite beverage in hand.
Multiple Points of Entry and Exits
Having multiple entries and exit points has several advantages. More design freedom with the pool and patio layout is one big advantage. If you can only access the pool at one corner, then that naturally limits the position that the pool can be in. Multiple entries and exits are also ideal for those who may tire quickly while swimming.
Wading Area
When you are looking for a full body submersion or a great place for youngsters to splash and play, a fiberglass pool design with a nice wading area might be a feature you want to consider. Wading areas are similar to tanning ledges but offer more water depth. Water depth of a wading area can vary and is approximately 14"-18" of water.
Built-In Spa
Enjoy the added benefit of total relaxation with a built-in spa. Indulge and drift away in your own back yard. Help improve circulation and escape from the daily grind. Melt away built up stress and treat yourself to some well deserved me time.
Slip Resistant Steps
These offer secure entry points into the swimming pool. Both young and old will be using the swimming pool, so it is essential to have a convenient option for entering the pool. All entry steps are easy on the feet and help ensure safety.
options
Tile
Waterline tile and mosaics are a fun and creative way to give your pool a personal touch. We are happy to offer a variety of tile options for your pool. Tile is available on steps, floors and around the perimeter. Be sure to ask your Latham dealer to show you the various options and layouts that are available.
Bubblers
Bubblers are the icing on the cake when it comes to having a Water Feature You Can Swim In! These simple built-in features require very little water and are economical to run around the clock. An easy way to create outdoor elegance. Bubblers are available on all Fiberglass swimming pool models, tanning ledges, and fountain pans.
Automatic Vacuums
This is the perfect option to make cleaning your Latham Fiberglass Pool effortless. Different options are available so be sure to check with your Latham Dealer for the model that is right for you.
Cascades
Listen to the intoxicating sounds of waterfalls that originate in the coping of your own Latham Pool. Latham Cascades are available in a variety of sizes and quantities for invigorating and attractive waterfalls that fit the size and landscape of your pool.
Spillways
Pick and choose your spillways and spill-overs. Make them as wide or as narrow as you desire. You can also add as many as you want! Why be stuck with an ugly, small pre-made spillway? Go with a Latham Pool & you don't have to!
Streams
Listen to the tranquil sounds of flowing water with Trilogy Streams, which are installed along the tile line of your pool. Our streams are adjustable so you can change their directional flow for the perfect appearance. With four face plate options including: black, white, gray, or beige, you are sure to get the perfect solution for a sophisticated polished look.
Lighting
Enjoy your Latham Fiberglass Pool and Spa long into the night with added lighting options. Choose from a variety of styles and brands to create your perfect late night getaway.
Tanning Ledge
Tanning ledges offer luxury living at its finest. If you are looking to bring home that resort vacation, tanning ledges are a great way to recreate that experience in your backyard. Tanning ledges can vary in depth, our standard for a tanning ledge is 12" from the top of the pool which equates to about 6"-8" of water depth. Outfit the tanning ledge with ledge loungers, bubblers and enjoy your favorite beverage.